gamma_orionis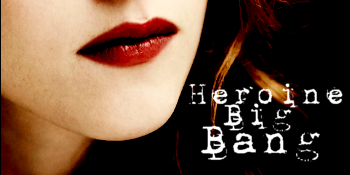 The Heroine Big Bang is back!

heroinebigbang
was the first big bang I ever did (I did it last year and wrote "
Roses Lie Waiting
", which is still one of my favourite things that I've written) and I'm extremely excited to see it coming back! It's a 15 000 word big bang where works must centre around a female main character, which means that everyone should do it because there always needs to be more female-centric work in the fandom! :D
There's also another big bang - run by the same person who's doing the heroine big bang - that's just announced itself.

villainbigbang
is also a 15K big bang, and the theme for it is (obviously) villains. I'd love to see Voldemort and the Death Eaters get some representation there, guys! :D
Third big bang thing:

kink_bigbang
is still looking for artists! There are a great variety of stories and fandoms that still need to be claimed
including mine
- it would be wonderful if those with some artistic skill could pop out and participate :D